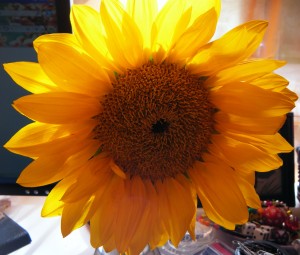 You may be aware that I recently competed to win a trip to perform at the Bluebird Cafe in Nashville, and you might be curious about how things went at the finals.   Maybe you know how it went, but you want to know how it WENT.
True, I was not chosen as one of the six "winners" who got to travel to Nashville together.  That surprised me.  And that–the fact that it surprised me–was one of the gifts of participating in the competition.  After my moment of surprise, I gave myself a pat on the back for all of the work I did to prepare for my performance.  As a person who has persisted in developing my talents, a person who sometimes struggles with stage fright, and someone who feels that I still have so much to learn as an artist, the fact that I felt that I was worthy to be on that bus to Nashville was really cool.
The best part?   I was so proud of the WAY I competed.  Because I made a decision about how I wanted to show up over the course of the competition, and I truly feel like I stuck with my plan.  The plan involved being relaxed!  And supporting the other amazing writers.  It involved sitting in the front row, enjoying performances, taking photos, letting go of the outcome.
It was hard to not get something I really wanted.  But it's great to know that I was myself, each step of the way.  When I do win (and I know it's coming), that's how I want to do it.