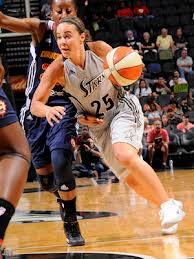 HAVE YOU ORDERED YOUR TICKETS YET?
I will be singing the national anthem on Sun. 9/8, at 3:30 pm at the AT&T Center in San Antonio
WNBA Basketball:  San Antonio Silver Stars vs. Tulsa Shock
How to Order Discounted Tickets Online: 6 Easy Steps
1. Go to http://tinyurl.com/TriciaMitchell
2. Enter the Special Offer Code: STARS (not case sensitive)
3: Create new Account (or use your existing one)
4. Select seat location
5. Print tickets at home (No Ticketmaster Fees)
6. Enjoy the game!  Go Stars!
"I play this game for many reasons now, not simply because I love it. I play it to inspire the 99% of people who are told they aren't good enough, tall enough, or didn't come from the "right program." I play it because I love giving a high-five to a little girl or boy who will never forget that moment and won't wash their hands for the next week. I play because I want to give you that precise moment that made your heart skip a beat and made you leap out of your seat.
I play because I want to see you scratch your head and wonder how in the heck I made that shot into the basket. I play because of the BIGGER picture! I play because every time I walk out onto the court I have the opportunity to blaze a trail through the minds of men, women, boys, and girls and show by example that we should judge an athlete not by the contour of their physique but by the character by which they compete. I play to honor those women who came before me who blazed a trail for me to have this singular opportunity.
I play because I love destroying every stereotype, every cultural and gender barrier that our society argues doesn't exist anymore. I play so that every mother, sister, daughter, or niece can walk into any job interview or situation in life and be given a fair opportunity. I play because every female and male needs to see and understand what a confident, informed, inspired, and qualified woman can do when she puts her mind to something. I play to inspire you to dream bigger than you think you can and to climb higher than what you've been told is safe. I play basketball because it reminds me that no matter what people say I can't do God says I can."
–Becky Hammon, Point Guard, San Antonio Silver Stars, from the book "Why She Plays, " by Christine A. Baker